Solutions for the industry
HOW WE CAN SUPPORT
TO THE PHARMA SECTOR:

The integration of technology in the health sector is increasingly rapid, both in the use of telecommunications tools and in the use of artificial intelligence to interpret data, diagnose diseases and provide treatments. Digital health (E - Health) is here to stay, and with it telemedicine, patient monitoring, and personal health control through wearable applications and in the patient journey.
What role do new technologies play from the experience of representatives, doctors and patients? What information generated by the different stakeholders can we integrate to optimize the go to market and the marketing of our product?
At SINNETIC we have developed solutions to determine and predict the way we will take care of our health. Through data analytics, qualitative and quantitative research, we understand how the relationship between physician, patient, representative, and laboratory has changed. We explore new patient and consultation journeys, optimize messages and communication channels, purchase and sale of medicines, medical products and services.
OUR METHODOLOGIES
Analysis of
PHARMA sector
AdPpt
Concept evaluation and pre-test.

Customer Experience Maturity Monitor
Customer experience flaws.

Enygma
Incognito customer and competition.

Shopper Behaviour Suite
Behavior of the shopper.


Brand Equity Maturity Monitor
Positioning and brand value.
SINNETIC ACADEMICS
Resources from our
latest research.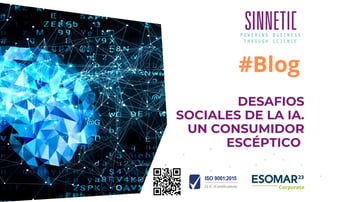 2023 ha sido un año intenso en nuevas publicaciones y lanzamientos de tecnologías y aplicaciones basadas en inteligencia artificial. Un reciente estudio desarrollado por nuestro observatorio social "P...
Regional coverage in Latin America, exporting services to the United States and Europe from our offices in Colombia and Mexico.
BOGOTÁ, COLOMBIA.

Carrera 13 No. 83 – 19,
Tel: +57 601 638 6904
gabriel.contreras@sinnetic.com

WhatsApp message
CIUDAD DE MÉXICO, MÉXICO.

Blvd. Manuel Ávila Camacho 182,
Piso 6, Colonia Reforma Social.
Tel: +52 5564212121


WhatsApp message
HOW CAN WE HELP YOU?
Contact us and we will find the best
solution for your company.